The 2nd Page of The Dead
Subterranean delights!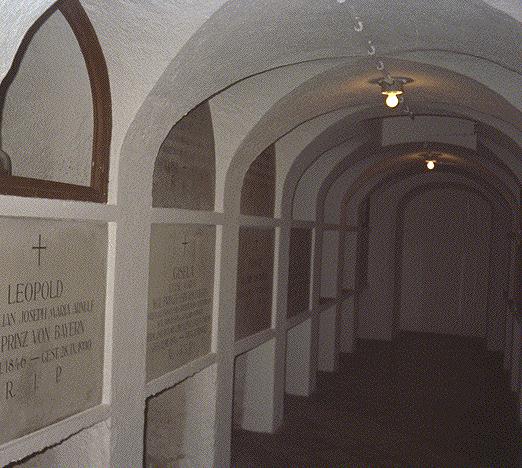 Greetings, visitor! Take a look at what the Dead have to offer us...

The picture selection:
Georg Simon Ohm, german physicist
John the Blind, king of bohemia
Ludwig II, king of bavaria
Alfred von Tirpitz, german admiral
Heinrich V, holy roman emperor
Rudolf I of Habsburg, german king
Marc Isambard and Isambard Kingdom Brunel, british engineers
August von Kotzebue and Karl Ludwig Sand, a playwright and his killer
Paul Johann Anselm von Feuerbach, german criminalist
Apart from the pictures, you may be interested in some true stories and special features...
Stories:
The Transfer of Napoleon's Corpse
The Restoration of the Imperial graves in Speyer
The Destruction of the Royal Tombs in St. Denis


Special features:
A Sepulchral Tour of Munich
Graves of World War II Personalities

---
Note: The picture on this page offers a view of the crypt of St. Michael's Church, Munich. Many members of the Bavarian royal family, the Wittelsbachs, are buried here.
The 2nd Page of The Dead is licensed by The Page of The Dead. These pages contain copyrighted materials.
---
Send e-mail to Eric-Jan Noomen at: ejnoomen@xs4all.nl

Go to The Page of The Dead

---

Beware of the brown bear!
Copyright by E.J. Noomen and Androom Software, 1995-2002